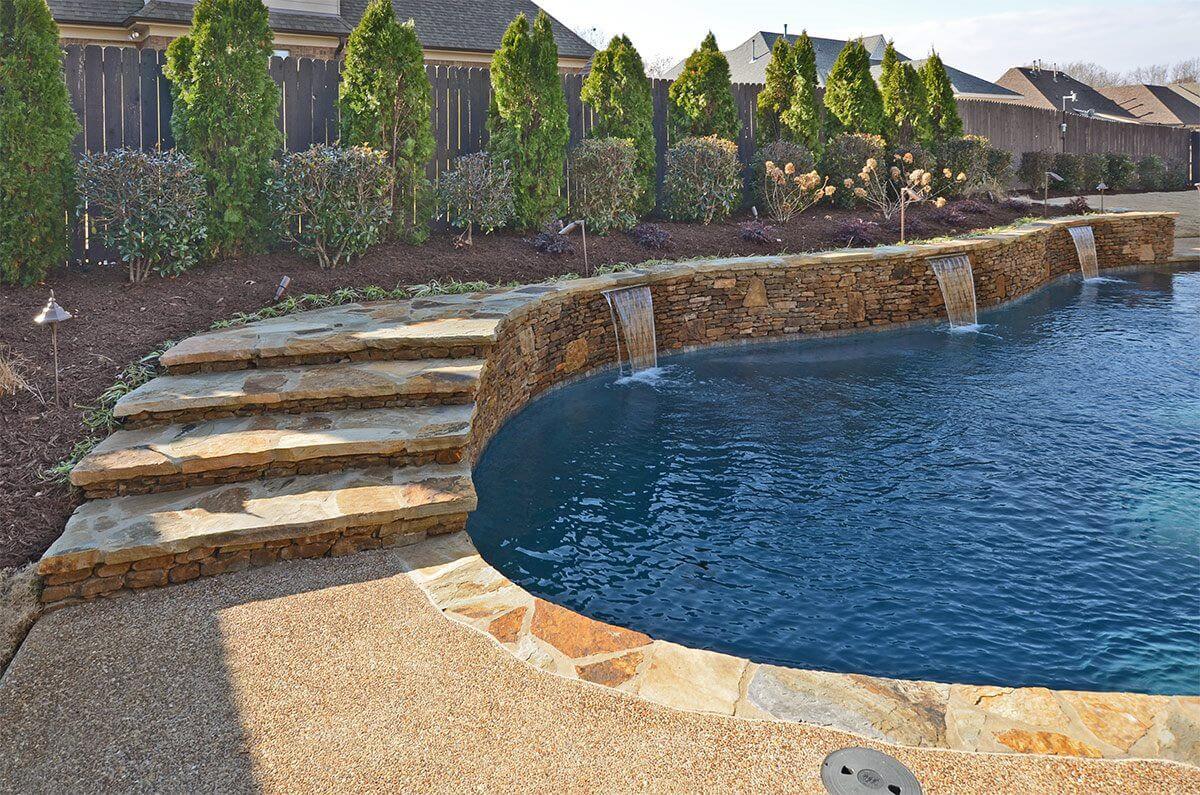 Ready for a Custom Pool? Start Here.
Relax. You've found Covenant Landscape, Memphis' premier in-ground pool design and installation experts.
When you're ready to break ground on a new inground pool, you need to ensure everything falls in line — the right landscaping, the right design, the right size, the right shape, plus countless other decisions that are easy to overlook. We get it — that's why we're the area's leading pool design and installation go-tos. By taking advantage of your property's unique topography and natural elements that surround, our expert team develops stunning and functional outdoor living experiences — starting with your new pool.
Custom Pool Design
No two families and no two backyards are the same – so why should your pool be? Our one-of-a-kind pools are designed to suit your style preferences, design specifications and budget. Together, we're assess your wants, needs and space, and come back with a plan for anything — that dream infinity pool, freeform lagoon pool, lap pool, lazy river or other custom creation.
Custom Pool Construction
Hot summer days and nights are a way of life in Memphis, and the best way to spend them is lounging in the lap of luxury — aka your backyard. After designing your custom in-ground pool, the real fun begins. Our highly skilled team of installation experts use the best materials from industry leading brands and premium décor elements to make our custom pool creations a reality. We'll handle every aspect of construction, from project design and permitting to excavation and luxury finishing touches, such as waterfalls and rock features.
Benefits of Having a Custom Pool
And once your pool is installed? There's no end to the benefits.
Enjoy your oasis
Home really is where the heart is, and yours should be brimming with love, laughter and merriment. A custom swimming pool transforms your backyard into your go-to haven for fun and plenty of R&R.
Improved health
Hydrotherapy increases blood circulation and brings immediate relief, combating hypertension, anxiety, depression, joint muscle pain and arthritis. Plus, aquatic exercise is a highly effective and low impact way to torch some serious calories while building muscle.
Increased curb appeal
A beautiful custom swimming pool is an investment in your home both now and in the future. Not only will it instantly elevate your home value, but it's also a major attraction for prospective buyers, especially when they say the natural design elements we incorporate.
Convenience
With a custom pool, everything you need is right in your backyard. Say goodbye to the costly pool memberships and overcrowded clubs and parks. Save time and money by installing your own.
A place to entertain family and friends
Create lasting memories with friends and family right in your backyard. Want the kids to spend more time at home? Want to have the best parties on the block? It all starts HERE. Get in touch to learn more and to schedule a free consultation.