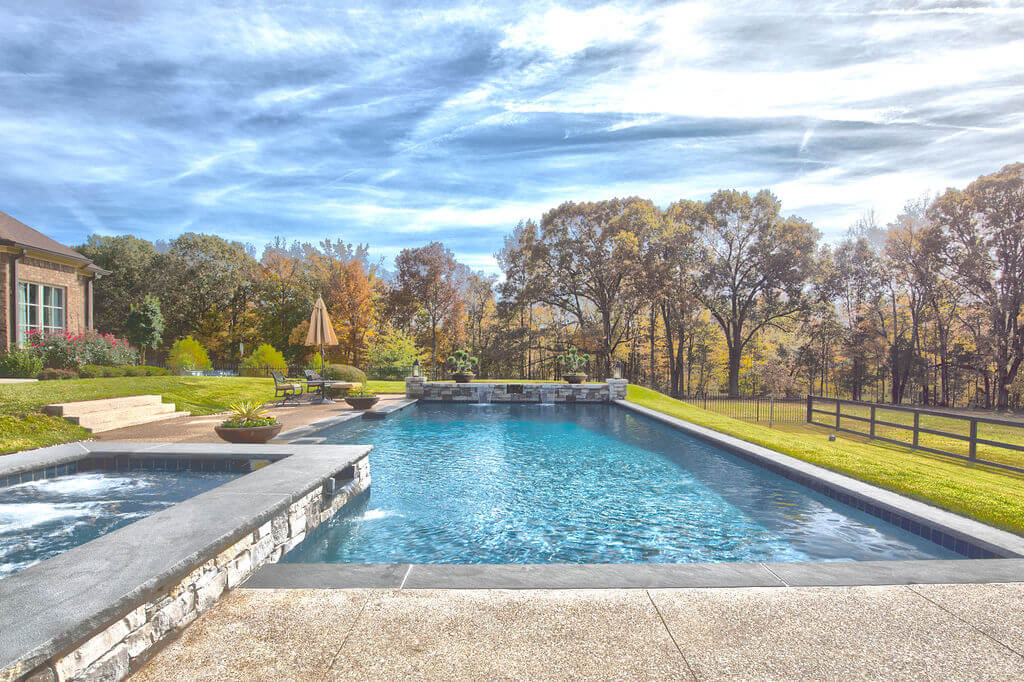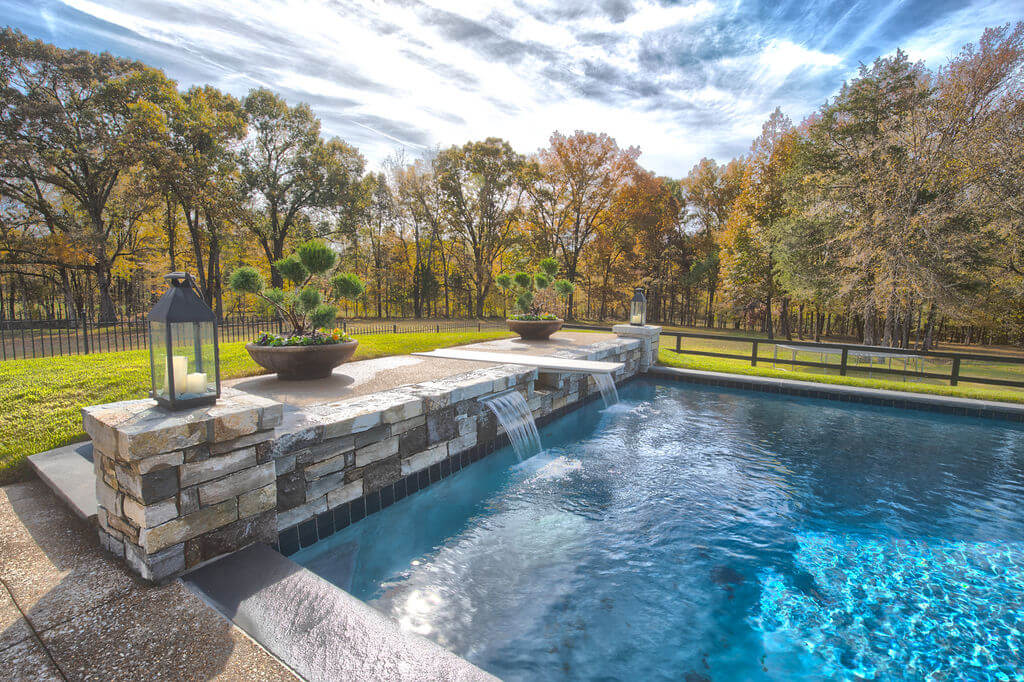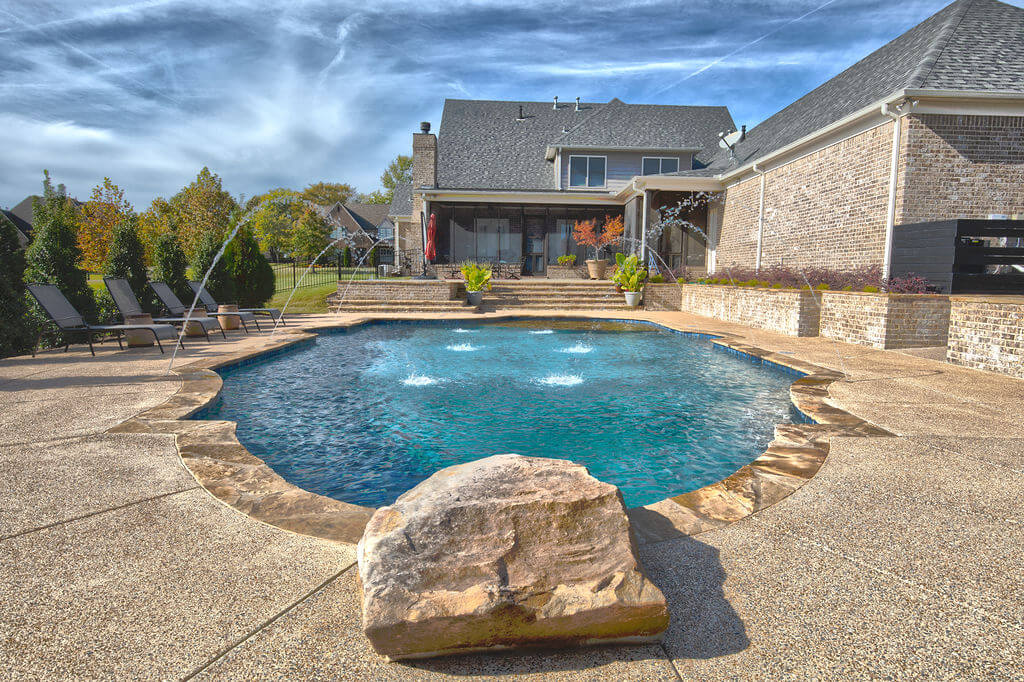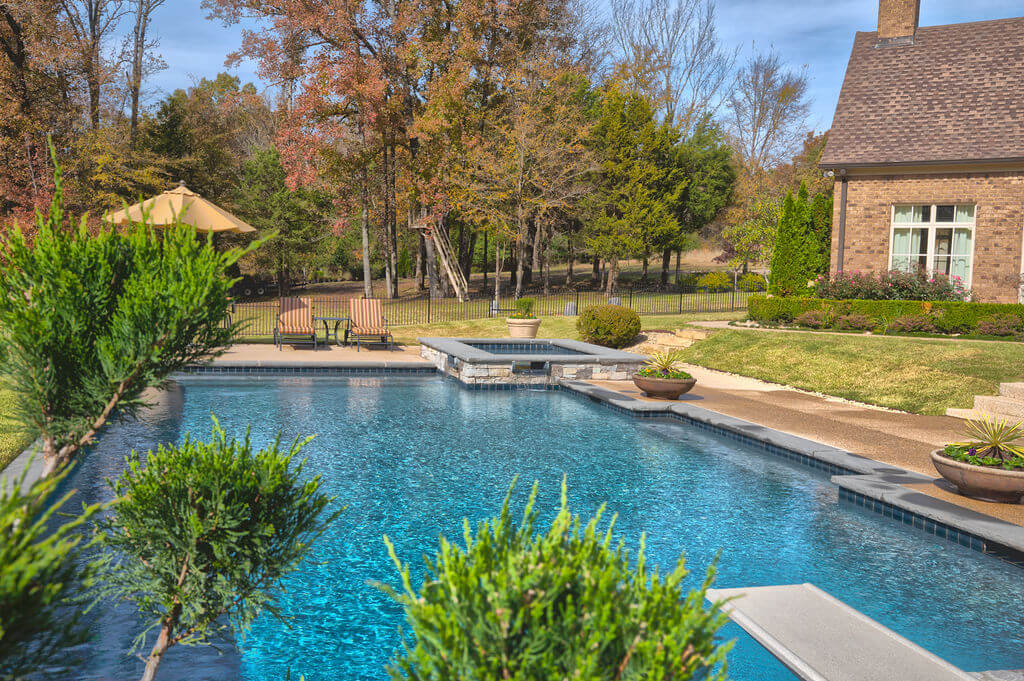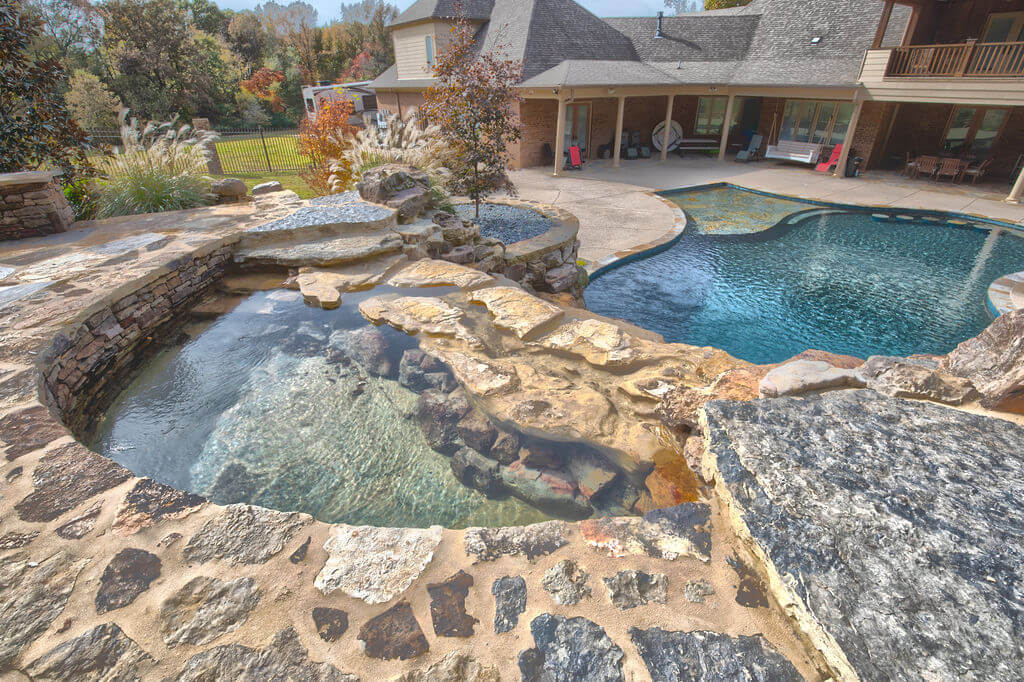 FAQs
Custom Swimming Pool FAQs
Installing a Custom Pool? Here's What YOU Need to Know.
Hot summer days and nights are a way of life in Memphis, and the best way to spend them is lounging in the lap of luxury — aka your backyard. After designing your custom in-ground pool, the real fun begins. Our highly skilled team of installation experts uses the best materials from industry-leading brands and premium décor elements to make our custom pool creations a reality. We'll handle every aspect of construction, from project design and permitting to excavation and luxury finishing touches, such as waterfalls and rock features.
At Covenant, we specialize in truly custom pools—in-ground, gunite pools and spas, designed to anchor any backyard space.
Gunite is a material made up of cement and sand. When mixed together, the composite can be applied using high-velocity compressed air, with very precise placement and enough compaction to make the resulting surface sturdy and air-tight. The finished product—your custom pool—is completely waterproof and long-lasting, designed to withstand the elements in any climate. Another perk to gunite is that, because of the way it's applied, the mixture can support very unique designs. With this added flexibility it's easy to achieve the perfect pool for your outdoor space, no matter the shape, size, or dimensions required.
Once our expert team has assessed the space and we've agreed on the final deliverables, we'll spend time surveying and excavating the area. From there, we'll carve out the exact shape and depth of your custom pool, using backing forms to control concrete and gunite. At every stage, we're continuously measuring and remeasuring to ensure the finished product matches our exact specifications. After this stage, our team will construct a steel-reinforced perimeter that supports the gunite, with rods held together by strong wire for a completely immovable structure. Next, plumbing is installed with pipes brought in and trimmed to your exact specifications. Pipes are tested and, after that, gunite is sprayed and smoothed, starting with pool walls. Curing happens next, followed by final plastering. The pool shell is grounded for safety and any desired lighting is installed along with decorative borders, caps, and edging. The final step is to finish the installation with any agreed-up deck work, decking concrete, patios, or additional water features—i.e. waterfalls, streams, etc. Once all elements are complete, tiling, staining, and acrylic applications happen and the pool is prepared for final plaster work. This will ensure a completely waterproof finish that lasts over time. Depending on the desired finish—for example, quartz, marble, or pebble rock—there may be additional setting or preparation required. After all, elements are complete, the pool can be filled and chemical balances adjusted. At this point, your custom pool is ready for action!
Not at all. Yes, all pools require some level of maintenance but, if you built out a solid plan going in, taking care of yours shouldn't be difficult. To streamline the process: > Plan to install automated water purification and testing system so you can stay in the know about changes in ph levels > Opt for built-in skimmers and filters to keep the water clean > Invest in a pool cover to keep leaves, branches, bugs, and other natural debris out of the water For annual openings and closings, plan to hire a professional. Our team can handle any extended maintenance, repairs, and equipment solutions needed, ensuring your pool is ready to go as soon as the temperature rises.
After a quick dip it's hard to tell one pool from the next. But, dig in a little, and it's clear why some custom pools cost more to install than others. Ultimately, the price of a custom pool should come down to the materials used—specifically, the actual materials and their level of durability and longevity. Customization, of course, also plays a major role—if your space requires significant customization or prep work, costs could be impacted. Beyond that, factors including design elements and add-ons, timelines, and location all tend to feed into a final cost. During our initial conversations and development period, we'll itemize every element of your custom pool installation and build, ensuring you're in the know in terms of cost, timing, and resource allocation, so you can make the right decisions for your space.
Yes, however, we don't recommend cutting corners or going with the lowest-cost provider right out of the gate. It's important to weigh what you're getting from customization and structural standpoint, and ensure it syncs with your space and your needs—and, of course, that you aren't sacrificing safety or longevity just to save a few dollars. During our initial consultation, we'll assess your space, your wants and needs, your timeline, and your budget and develop a proposal that checks all of the boxes. At this point, we'll be able to address specific questions and concerns and help design a custom pool that fits your budget without abandoning our commitment to quality and craftsmanship.
In short, YES! Our expert designers are skilled at creating custom pools for virtually any space. Get in touch and, during our initial walk-through, we'll assess your yard and determine how and where to install your pool, providing options for any size and specs.
Absolutely! Together, these systems will clean and monitor your pool, ensuring it's always ready when you and your family want to dive in. While there is an upfront investment involved, you'll immediately save on chemical and energy costs, as well as time spent on routine maintenance, repairs and equipment failures. Between the time, resources and budget saved, installing these systems is a no-brainer.
Many homeowners layer in remote-start lights, water features—i.e. waterfalls and streams—heating, audio systems and spa features. Depending on the system and features you select, these add-ons can often be controlled via universal remotes or, even, smartphone apps.
If you can dream it, we can install it! Many clients have very specific visions for their custom pools, whether it involves waterfalls, fish ponds, streams, infinity finishes or other resort-inspired details. We've even seen homeowners create truly custom spaces with putting greens, fireplaces and more. Contact us to discuss some of the unique luxury additions we can weave into your custom pool design, or feel free to share images and inspiration from your own research and travels.
Absolutely. Pools are a big investment and, often, it's smarter and more cost-effective to work with what you have. Whether it's removing and replacing tile, adding luxury features, replastering, or replacing key elements of your existing pool, get in touch to learn more and to schedule an expert review.
Your proposal and design overview will include a timing estimate based on the features selected, space and time of year. In most cases, though, we can get a new custom pool installed in three to six weeks. Additional features such as decks, landscaping, lighting and luxury finishes may require more time.