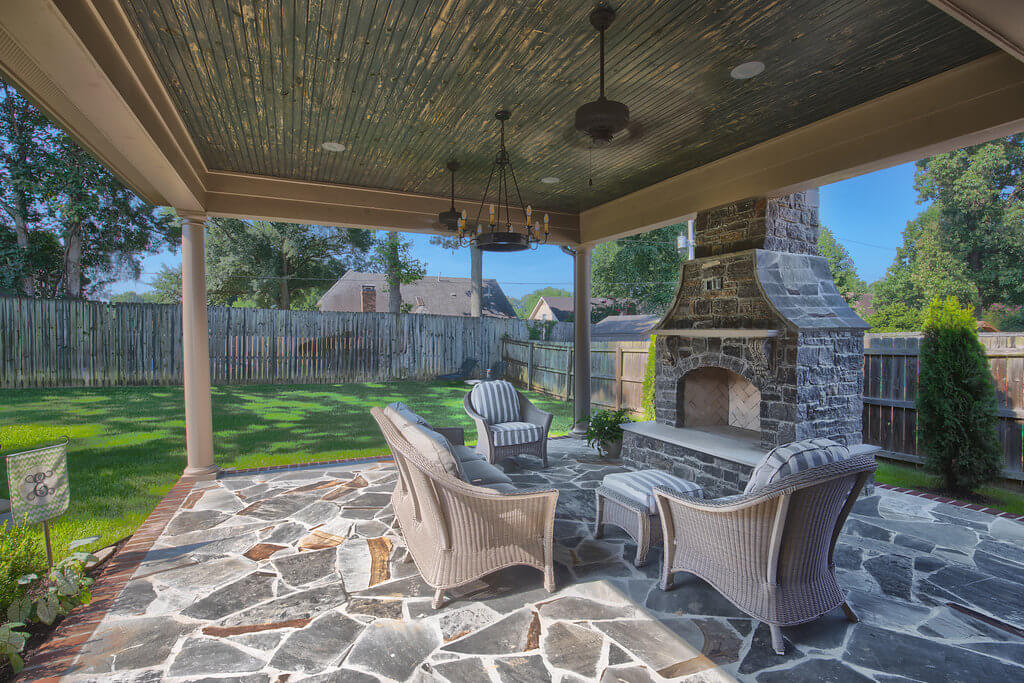 Designing your dream outdoor living space? When it comes to creating a functional and beautiful outdoor space, you've got tons of selections. For homeowners who love to host parties and entertain, creating the perfect outdoor living space is a dream come true. 
With so many options on the table, you may find it hard to narrow down what to include in your living space project. Below, we'll explore some of the best enhancements to consider when creating a layout for your outdoor project. From outdoor pizza ovens to the addition of a patio bar, these creative ideas are sure to get you excited about your outdoor living space project.
Outdoor TV or TVs
When creating a relaxing or lounging space outdoors, the addition of one or more TVs is a great idea. During a cool summer night, relaxing and watching TV outdoors provide a great atmosphere. In addition, outdoor TVs are excellent for entertaining. Many people like to hold sports-watching parties using their outdoor lounge space.
When selecting a TV for your outdoor living space project, be sure to do some research. It is important to select a model that can withstand the weather, especially in warm climates. If you're not able to mount your outdoor TV yourself, you may need professional installation.
Outdoor Fire Pits or Fireplaces
To go along with your outdoor TV and seating space, create some warmth by using an outdoor fire pit or fireplace. Adding a fire element to your backyard means you can comfortably enjoy using your backyard, even when the weather gets a bit chillier. If you have the space, a fire pit is an excellent backyard addition to consider. You'll love the warm and cozy feel it provides.
Outdoor Pizza Oven
Does your family love pizza? Who doesn't? An outdoor pizza oven is an excellent way to start a family tradition of pizza night. Instead of ordering pizza, creating your own is a fun family activity that everyone can get excited about. Plus, having an outdoor pizza oven makes your home unique and different than others. Not to mention, when you go to sell your home, it can be a great selling point and enhance the value of your home.
Patio Bar
Another great idea to add to your outdoor living space is a cocktail bar. For pool parties and backyard parties, installing a patio bar will certainly be put to good use. It provides you with more seating with high-top stools, as well. Behind the bar, be sure to include enough space and storage space to hold all of the things you need to mix drinks.
Creating a patio bar also gives you a lot of flexibility in terms of style. Create a unique stone wall bar with unique decor elements that express your style. A patio bar can make your backyard oasis project feel complete.
When creating your patio bar, the addition of an outdoor sink can make your life easier. Adding running water makes creating drinks and cleaning up after parties much easier. Think of how many trips inside you'll save. If you plan on holding lots of parties, an outdoor sink can be a useful addition to your backyard living space project.
Cozy Seating
When planning your outdoor living space, don't forget seating! You'll want to consider the amount of seating your space can accommodate. If you're looking to entertain frequently, you'll want to find ways to optimize the number of seats available. Outdoor sectionals and couches are a great way to add cozy seating for multiple people.
Beyond the size, it's also important to consider the type of material you select for outdoor seating. Comfort is important, especially if you plan on spending a lot of time outdoors. Based on the weather conditions in your region, you may also wish to consider choosing a heavy-duty, durable, and weather-resistant material. During the off-season, you can protect your outdoor furniture with furniture covers or bring it indoors, if possible.
Getting Started On Your Next Outdoor Project
These outdoor enhancements are just a few of the many customizable options available to make your outdoor space perfect. Start your outdoor living space project today with Covenant Pool & Landscape! We specialize in all of the design and installation services you need to create your dream backyard oasis. From landscaping lighting to pools and water features, we can make any of your dream enhancements come to life. Call us today or click "start your project" online to get started.